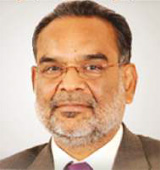 SHRI KAMAL SARDA
Chairman - School Managing Committee
The journey of India from being perceived as the world's second largest populous country rich in resources, but inhabited by people draped in misery, to being acknowledged as the world's second largest growing economy reaping demographic dividends and a potential knowledge superpower was tumultuous. Perceptions take time to build, but changing them takes even longer. Now, that perceptions about India in general and Indians in particular have become soothing, schools have an onerous task of sustaining and improving it, and we have been doing just these here.
Learning by observation, learning by doing and simultaneously learning how to learn form the hallmarks of education at Bhavan's R.K.Sarda Vidya Mandir. It all begins with the magical sensation of teachers reaching out and whispering in children's years "Yes, you can!" This is when dreams are created and bridges built to reach beyond the realms of the possible. Learning gives us knowledge, but it's the great mentoring received here that gives children the ability to relate it to the real world. It helps children learn life-skills and moulds their attitude. The self-confidence that mentoring can generate is huge.

Bhavan's R.K.Sarda Vidya Mandir is an effort to bring sustainable value and culture embedded world class school education to Raipur at an affordable cost. Children of today are likely to live longer, see more, do more and learn more, and one tool that's likely to make a substantial difference to their lives is the quality of decisions that they will be making. It's my belief that we will equip them with the best of tools to improve the quality of their decisions. This, I am sure, will help them make the best of all situations and opportunities, and also inspire them to be in the learning mode.
Happy Value-based Schooling.