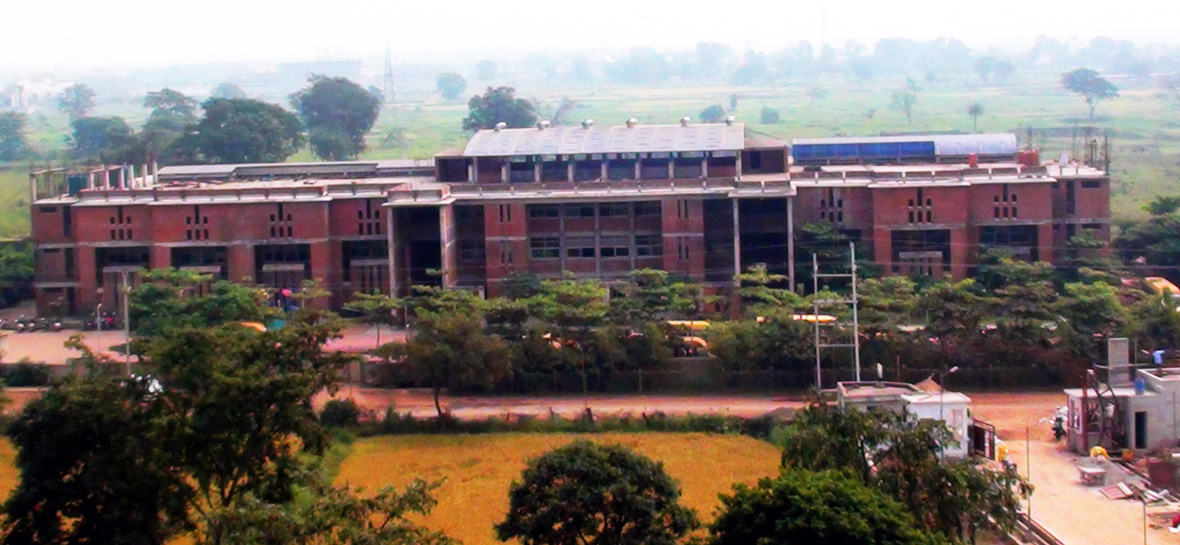 Named after the well-known industrialist and educational visionary, Late Shri Ram Kishore Sarda, who believed that the destiny of India was in its classrooms, the school has been set up by Bharatiya Vidya Bhavan's Raipur Kendra with endowments from the SARDA group. Its first session commenced from April 2010 for classes Junior KG to 5 with 167 students and a team of 12 teachers. As on date, we have grown to a strength of 1960 students and a team of 82 teachers.The school is located on the Saddu - Baronda road about 7 kms from the main city amidst a salubrious and pollution free environment. With ergonomically designed buildings providing for ample air and sunlight, digital classrooms with multi-media facilities, well equipped laboratories and qualified, efficient, energetic and vibrant staff, the school is one of the most sought after school in and around Raipur.

A glittering ceremony peppered with crème-de-la-crème of Chhattisgarh marked the Inaugural Function of Bharatiya Vidya Bhavan's R.K.Sarda Vidya Mandir, Raipur, held on 11th April 2010. The school marks the fulfillment of a long cherished dream of the Chairman of Bhavan's Raipur Kendra, Shri Kamal Sarda. The school is inspired by his father, Shri R.K.Sarda, an eminent educational visionary of the state. The occasion was graced by His Excellency The Governor of Chhattisgarh, Shri ShekharDutt as Chief Guest, Honourable Dr. Raman Singh, Chief Minister of Chhattisgarh, as the Guest of Honour, Shri Brij Mohan Agrawal, Education Minister, Shri Rajesh Munot, PWD Minister, Shri RavindraChoubey, Leader of Opposition, current Chairman of Bhavan's Raipur Kendra, Shri Kamal Sarda, Past Chairman Shri LalitSurjan, Hon. Secretary of Bhavan's Raipur Kendra Shri O.P.Singhania and other notable dignitaries. The function was presided over by Justice Shri B.N.Srikrishna, International Vice-President and Trustee of Bharatiya Vidya Bhavan.

The Governor in his keynote address mentioned that "Education enhances the dignity of human beings and instills self-respect and confidence." He also stressed on the optimum utilization of infrastructure for various societal uses. Chief Minister Dr. Raman Singh applauded the initiative of Shri Kamal Sarda in the field of education on a non-commercial basis, and especially so in bringing a Bharatiya Vidya Bhavan's School known for quality education to Raipur. The Chief Minister also said that he was confident that Bharatiya Vidya Bhavan's R.K.Sarda Vidya Mandir would play a significant role in helping the children of Raipur reach stratospheric heights. The Chairman of Bhavan's Raipur Kendra Shri Kamal Sarda focused on his vision of the school bringing about a paradigm shift in School education of Raipur. Shri LalitSurjan, former Chairman of Bhavan's Raipur Kendra stressed on the activities that are being undertaken by the Bhavan's Raipur Kendra. Justice Shri B.N.Srikrishna in his presiding address emphasized that "Education is the only thing that stays with us forever." The Principal, Shri Amitava Ghosh, in his speech took the audience through a tour of the school and the facilities that the school has to offer. He also explained the need to build an attitude of "No one can beat you if you don't beat yourself" among the future citizens. The function was moderated by Hon. Secretary Shri O.P.Singhania. Shri Pankaj Sarda proposed the vote of thanks.

The function was also marked by the felicitation of Smt. Shakuntala Devi Sarda, wife of Late Shri R.K.Sarda by Justice Shri B.N.Srikrishna, Architect of the school building Shri M.M.Patel by His Excellency The Governor Shri ShekharDutt and the site engineer Shri Praveen Tete by Honourable Chief Minister Dr. Raman Singh.

The medium of education in all the classes is English. We run an Integrated Curriculum with equal emphasis on academics and activities, hoping to bring about an integrated development of both sides of the brain.

The approach to academics is student-centric and based on Prof. Howard Gardner's theory of multiple intelligences. The school believes that every student is unique and has different learning styles. It is our endeavour to ensure that learning is customized to suit every child's learning style. Skill-based learning and assessment is the norm and rote learning is strongly discouraged. Application and experiential learning will guide academics in the early years along with development of requisite skills. The school is of the firm belief that it is the process of learning rather than learning itself which is more important. Care is taken to ensure an emotionally safe and stress-free environment. Bhavan's R.K. Sarda Vidya Mandir follows the curriculum as prescribed by the National Curriculum Framework (NCF) and laid down through the textbooks prescribed by the National Council of Educational Research and Training (NCERT). The school is affiliated to the Central Board of Secondary Education vide Affiliation No. 3330156 for the All India Secondary School Examination (AISSE) and is in the process of seeking affiliation for the All India Senior Secondary Certificate Examination (AISSCE) from the CBSE.

Shloka chanting, yoga, meditation, aerobics, clay modeling, drawing and painting, vocal music, instrumental music, dance and a variety of sports and games (tennis, basketball, badminton, soccer, cricket, table-tennis, volley ball etc) are also a part of the curriculum in the formative years. Every child is expected to be proficient in at least one particular game/ activity by the time he walks out of school. Quizzes, Olympiads, debates, declamations, SPIC MACAY concerts and various other contests dot our calendar. It's our inherent belief that participation in various activities and exposure to eminent personalities in addition to rigorous academic discipline will lead to the development of well-rounded and wholistic individuals.

Affordability and Quality are the hallmarks of Bhavan's R.K.Sarda Vidya Mandir. We believe that "Education is preparation for life." Since every child has a right to prepare for life, it must also be affordable. Every child entrusted to our care will receive education of the highest quality. It will be our endeavour to ensure that every child walking out of school is a wholistic personality imbibed with Indian values and a high degree of adaptability, who will contribute to catapulting India into the League of Superpowers.